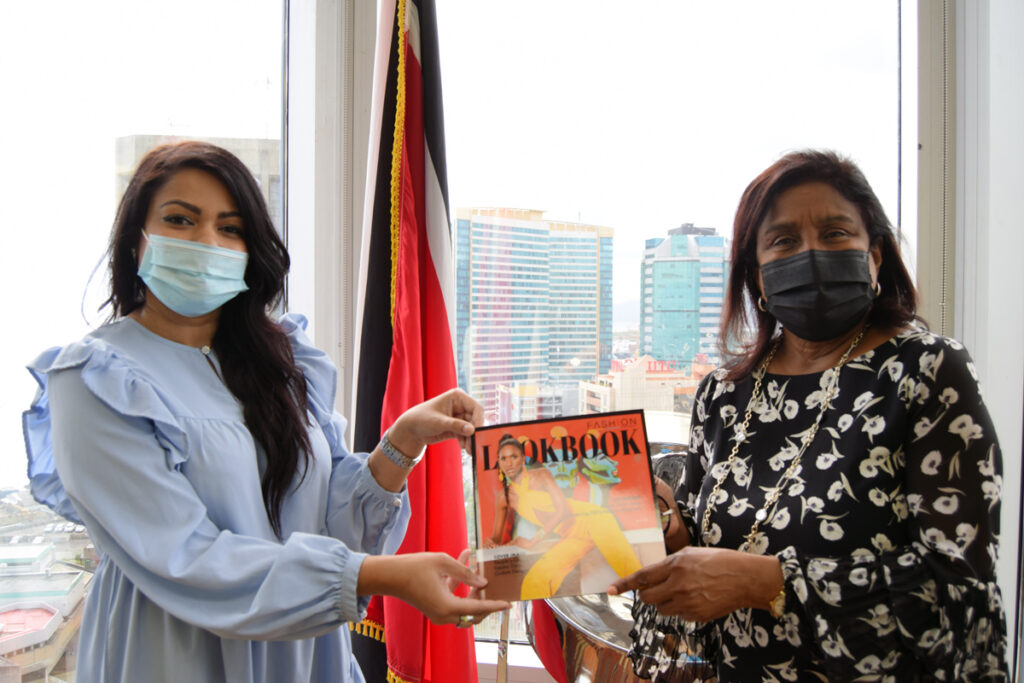 12/04/2021: Senator the Honourable Paula Gopee-Scoon, Minister of Trade and Industry was recently presented with a copy of the recently launched LookBook by Ms Lisa Daniel, General Manager, FashionTT. The LookBook, which was developed by FashionTT is a magazine specifically designed to highlight Trinidad and Tobago's fashion designers and serves to showcase the beautiful and original creations of our local fashion companies to current and untapped markets regionally and internationally. The March 2021 Issue features brands such as Deisha Dare Designs, SunRae Swimwear, Bene Caribe, J Angelique and House of Abeje to name a few.
Minister Gopee-Scoon was quite pleased with the new publication, saying, "Trinidad and Tobago's creative sector has tremendous potential and talent specifically within the Fashion Industry. This Fashion LookBook is an excellent medium to create opportunities for our existing and potential designers, dress makers, tailors and many others in the fashion value chain as the Government seek to boost commercialization and exports".
Approximately 46% of the local garment manufacturers have exported to 48 countries, with exports ranging from an estimated TT$18M to TT$24M during the period 2017-2019. Some of the export markets include the United States of America, Canada, Norway, Italy, Honduras, Sweden, United Kingdom, Australia, Philippines, Germany, China, Netherlands and Caribbean countries such as Barbados, Grenada, Jamaica, Belize and more. Recognizing its potential, Minister Gopee-Scoon reiterated the Government's commitment to the local Fashion Industry as it continues to contribute to income generation, job creation and foreign exchange earnings.
The LookBook can be viewed online via www.fashiontt.co.tt/lookbook. Stay tuned to the website and social media platforms for the new Editions which will be published quarterly. Designers interested in being showcased in subsequent editions can email info@fashiontt.co.tt for more information.