Minister of Communications
The Honorable Symon de Nobriga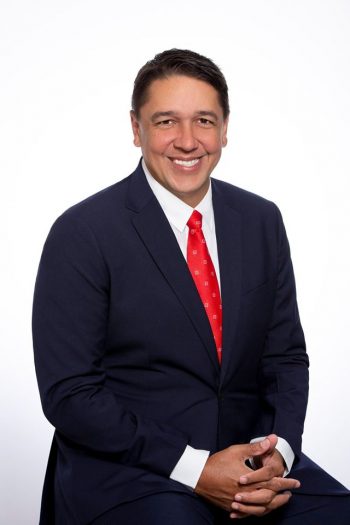 A proud resident of Diego Martin and Fatima Alumnus, Symon de Nobriga was elected as the Member of Parliament for Diego Martin Central on August 10, 2020. Following this general election, he was appointed as Minister in the Ministry of the Prime Minister with responsibility for Communications. He is the proud father of two children.
The holder of a Diploma in Marketing and Public Relations from the London Chamber of Commerce and Industry and a Certificate in Marketing from the Chartered Institute of Marketing, he was able to successfully navigate a career in business management across various industries. Minister de Nobriga began his Management career as Director of Advanced Digital Systems Ltd. from 1998-2001. He then moved to Complete Network Services Ltd. as Director, successfully rebranding the company from Advanced Digital Systems Ltd. In 2008, he became Marketing Manager at De Freitas Consulting Services Ltd. where he was able to climb the corporate ladder to the position of General Manager, then to Chief Executive Officer. In 2015, Minister de Nobriga found a void in the construction and manufacturing industries and formed Pomegranate Installation and Maintenance Ltd. and became its Director.
He answered a call to national service in 2015 and became the Operations Manager for the Diego Martin Central campaign team for the 2015 General Elections. Always ready to serve and be of service to others, Minister de Nobriga was nominated for and won the district of Morne Coco/ Alyce Glen at the Local Government Elections held in November 2016. He was effective in delivering the services of Local Government to all residents of this area, working closely with his Member of Parliament at that time. He was then elevated to the position of Chairman of the Diego Martin Regional Corporation in 2019, following his successful reelection, where he passionately led a team of Councillors to ensure that Diego Martin was the best place to live.
Minister de Nobriga was nominated as the candidate for the August 10th 2020 General Elections for the constituency of Diego Martin Central and was successful in his bid for the seat. Victory at the polls ushered in a new era of politics for him, as he is now a Member of Parliament in the Government of Trinidad and Tobago and a Cabinet member with the portfolio of Minister in the Ministry of the Prime Minister responsible for Communications.