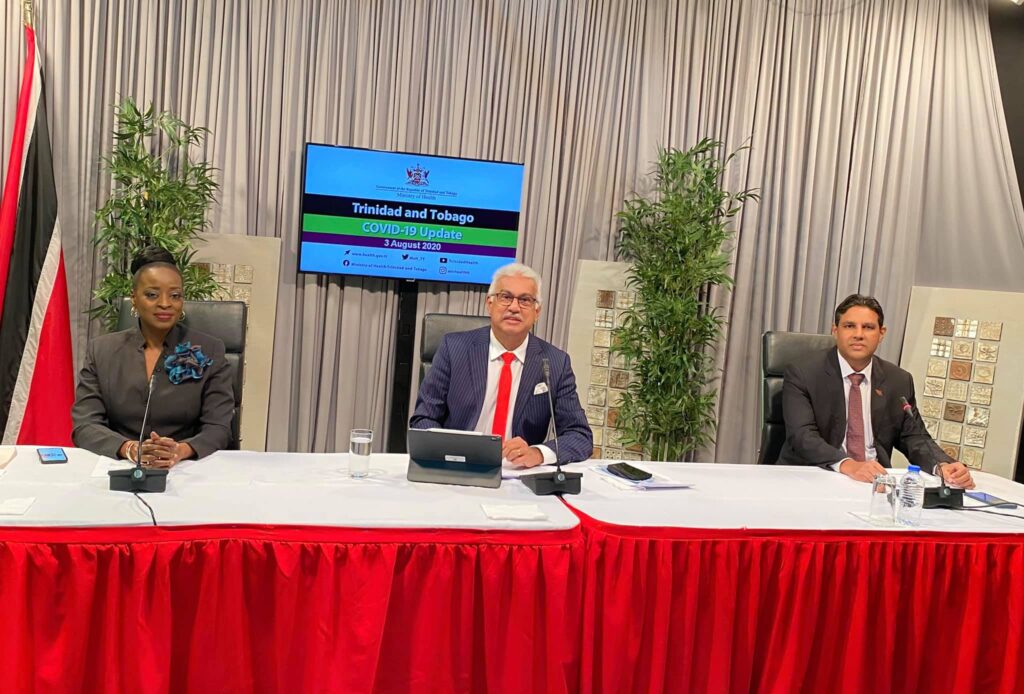 Health Minister Terrence Deyalsingh confirmed there will be a virtual meeting with regional/international stakeholders on Wednesday 5th August 2020 to discuss the financing and policy allocations for vaccines, as well as therapeutics and diagnostics to treat with COVID-19.
Minister Deyalsingh called for cooperation from the public in assisting officials in their contact tracing efforts. He said people play an important role in contact tracing and this is why they must be truthful when health officials ask for information. This will help reduce transmission and control the spread of COVID-19 in the population. People can be assured that patient confidentiality is top priority and contact tracers are trained.
Technical Director, Epidemiology Division at the Ministry of Health, Dr. Avery Hinds, noted from the data on contact tracing that recent cases of transmission occurred in people who shared households, workplaces, social spaces (bars etc) and schools (from adults who passed on to their children who then went to school). He urged adults to be responsible. Some cases that were pending epidemiological investigation were in fact linked to social gatherings.
As much as nine schools have been closed as a result of links to COVID-19 in the school population (adults testing Positive/minors who are SEA students testing Positive).
Currently, there are 39 people who are hospitalised for COVID-19.
CAURA:35
COUVA: 4
Currently, there are 106 persons quarantined at various facilities in T&T. The following is the breakdown:
ARIMA GENERAL HOSPITAL: 2
CASCADIA: 18
CAURA: 4 (Adults linked to children)
COUVA: 1
CHANCELLOR HOTEL: 12
HOME OF FOOTBALL: 13
NAPA: 10
REGENT STAR: 45
UWI DEBE CAMPUS: 1
In addition, 102 persons affiliated with the CPL are quarantined at the Hilton Hotel and swabbing is underway. 67 additional persons expected to come in later today.
10,577 Community Tests (combined) have been conducted in public and private labs.
There have been no COVID-19 deaths recorded outside the public health system. CMO Dr. Roshan Parasram said personnel at the Forensic Science Centre continue to swab bodies that come into the Centre to ensure COVID-19 was not the cause of death.